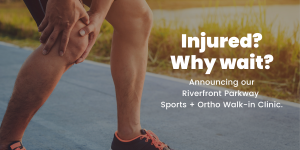 We understand the importance of immediate attention, especially when you're injured. Now, you no longer have to waste valuable time in a busy emergency room waiting to be treated. RiverRun HEALTH offers personalized access and immediate care with its Sports + Ortho Walk-in Clinic, located at our Riverfront Parkway location in downtown Chattanooga.
MORNING CLINIC
Monday – Thursday 8:00a-11:30a
Friday 8:00a-11:30a [morning clinic only]
AFTERNOON CLINIC
Monday – Thursday 1:00p-4:00p
Walk in for:
Sports Injuries
Strains and Sprains
Dislocations
Broken Bones and Fractures
Accidental Falls
Torn Ligaments or Tendons
Acute Joint Pain or Injury
Acute Neck and Back Injuries
Our Sports + Ortho Walk-in Clinic is at our RIVERFRONT PARKWAY location [1067 Riverfront Parkway]. We offer both weekday morning and afternoon clinics. For questions or more information, please contact us.